Approximate reading time: 6m 39s
Using active learning philosophy to create powerful and engaging online training programs
What is "Active Learning"?
There is a popular Chinese wisdom, that best describes the power of active learning: "Tell me, and I will forget. Show me, and I will remember. Involve me, and I will understand."
Active learning is not a new concept. However, it is quickly picking up in today's complex and dynamic world. The approach was first introduced by Bonwell and Eison in their study "Active Learning – Creating Excitement in the Classroom" published in 1991. The study suggests that learners must do more than just passively listen to lecturing. They must be able to read, discuss and solve problems to synthesize the information. In a nutshell, the active learning method focuses on "absorbing knowledge" by doing and then reflecting on the learner's thought process.
Active learning is a concept based on the idea that educators are designers of learner activities and that students / trainees learn best when they are involved in the learning process. An oversimplified way of defining active learning is through the equation: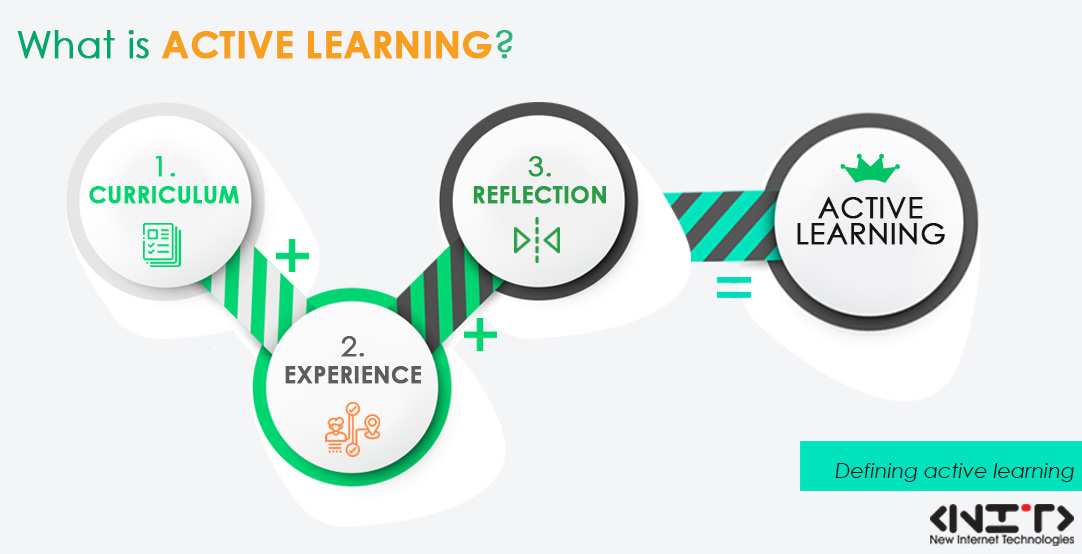 The increasing role of active learning responds to the need for nurturing "creative and critical thinkers" and proactive learners. Furthermore, this modern approach fosters a spirit of exploration and discovery in learners and employees. It is "learner-centric" as it structures the entire training process around the learner. The role of the trainer / teacher is like a facilitator. He / she must design and implement activities that support learner discovery. The question is not "how to train learners", but "how to best engage and motivate them to start learning".
Benefits of Active Learning:
Active learning holds many benefits both for the learner and the trainer.
It is a "deep learning" as it enhances knowledge retention: the active learner explores autonomously the content by developing a connection to it.
Another advantage of active learning is that it is based on self-exploration which in turn enhances important soft skills beyond the mandate of the training such as:
Critical thinking
Decision making
Prioritizing
Creative thinking
Problem-based learning
Since active learning is constructed around the learner and calls for participation, it boosts the learners' motivation and engagement level.
In active learning, the learners share experience on topics and cases which in turn foster their social skills and sense of community.
Active learning is best achieved when the following pre-conditions (enablers) are in place:
A motivational context
An interaction with others
A well-structured and integrated content
Rich elements of discovery and exploration
Using Bloom's Taxonomy Cognitive Framework in crafting powerful e-learning training courses
One of the most popular frameworks inspired by active learning is called "Bloom's Taxonomy". It suggests that in a training course based on active learning philosophy, the learner should employ skills that go beyond the entry-level skills of knowledge and comprehension. Moreover, the training course should be developed to foster "higher-order thinking skills" of knowledge application, analysis, and synthesis.
Bloom's Taxonomy framework could be easily adapted to facilitate impactful and engaging e-learning experience as illustrated below.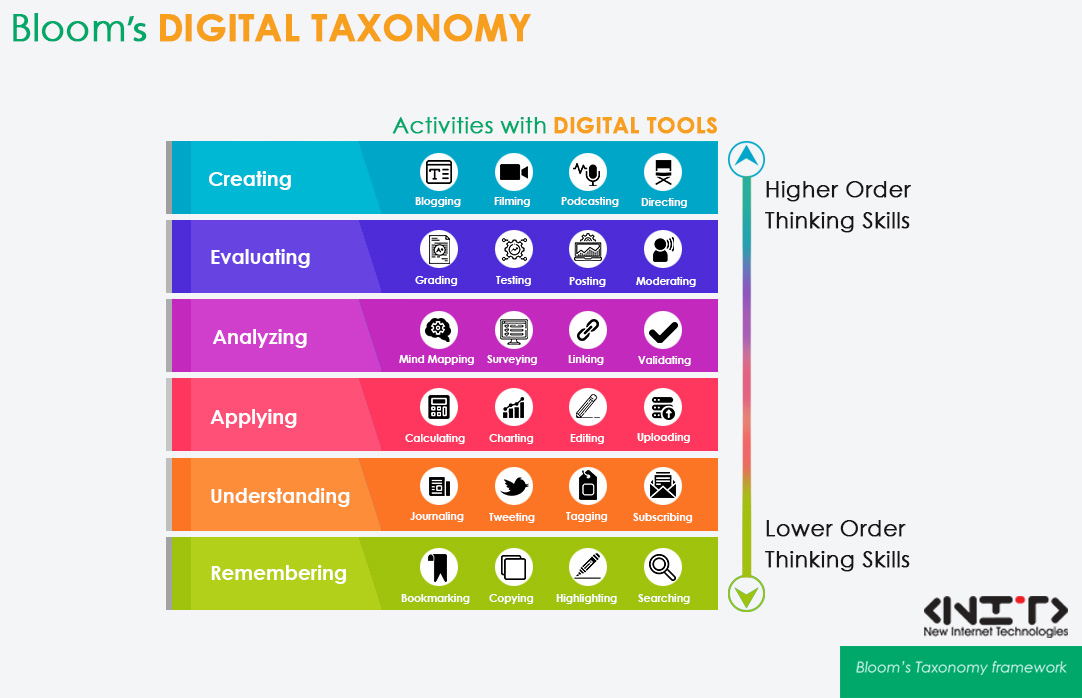 As you can see, each stage of the Bloom's Taxonomy framework could be translated into a different set of e-learning techniques and tools.
CREATING: To produce new or original work. Tools – Animations, blogging, videos, podcasting, publishing, simulations, wiki building, streaming, programming, directing
EVALUATING: To make a judgement based on criteria and standards through checking and validating. Tools – assessing, networking, testing, rating, reflecting, blog commenting and sharing, posting.
ANALYZING: To make connections between ideas, concepts, finding interdependencies in an overall structure or purpose. Tools – mind mapping, validating, brainstorming, surveying, linking.
APPLYING: To use information in a different setting such as models, diagrams, or presentations. Tools – Charting, editing, presenting, developing new methods, processes, sharing with a group.
UNDERSTANDING: To explain concepts or get insights from written material or graphics. Tools – Advanced research, blogging, tweeting, tagging, commenting.
REMEMBERING: To recall facts, basic concepts, or key parts of the material. Tools – highlighting, copying, googling, bullet-structuring, grouping, searching
NIT – New Internet Technologies Ltd. can help you build a powerful e-learning training programs that your employees or students will love.
If you want to know more about the basic principles for active learning and how to apply Bloom's Taxonomy cognitive framework into your online training program, please read the next article.
Strategies to incorporate active learning into an online training program
"I never teach my students; I only provide the conditions in which they can learn."
Albert Einstein
An active learning approach could transform online training programs into a much more interactive, engaging, and effective learning experience.
Principles of active learning to deliver a true "learner-centric" experience and boost learner engagement
According to Douglas Barnes, a respected educator and researcher, active learning experiences follow a set of 6 core principles. They should be considered when developing e-learning content and designing the course materials that are learner' centric: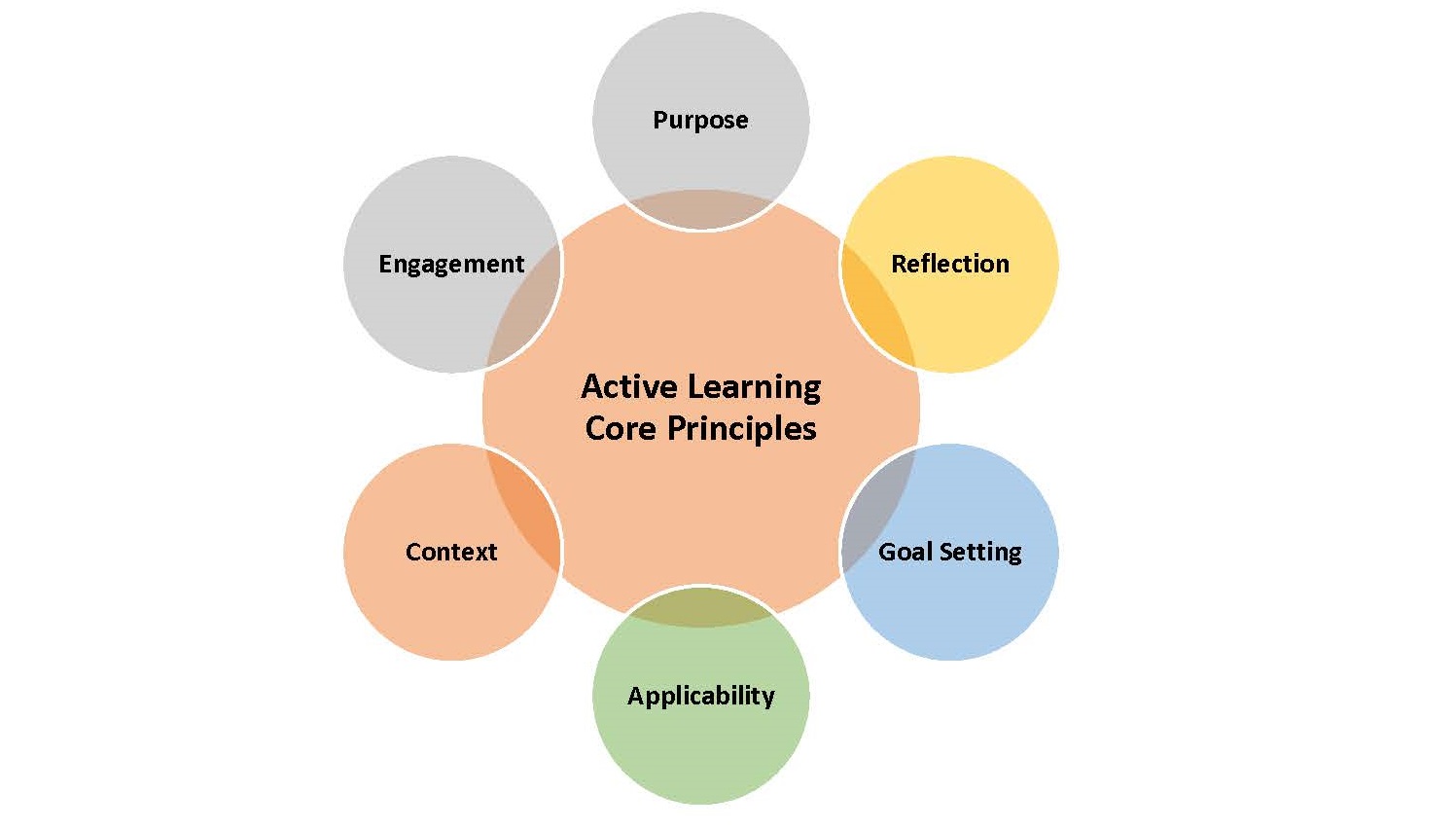 Purpose: Active learning is characterized by a high level of involvement and commitment from the learner. Clarifying the objectives and the value of the training will put the learner in the right mindset. Highlighting the benefits of the training is important to win the learner's commitment and interest early on. In other words, the overview of the training course should mention the "bigger picture" associated with the training program – its mission and objectives.
Opportunity for reflection: To promote active learning, the training program should allow students to reflect on what they have learned and how the knowledge applies in a real case situation. It is recommended to split the training course content into smaller modules that give learner a chance to internalize the information after each online training activity. Furthermore, you can also encourage learners to discuss the content topic in smaller groups to deepen their understanding of the subject matter and the learning goals.
Learning Goals setting: Active learning is best achieved when there is a strong level of commitment from the learner. Therefore, it is recommended to foster learner's involvement in the training program, by getting feedback from the target training audience prior to designing the curriculum content. In asynchronous online training environments, you can introduce surveys, eLearning assessments and interviews that can help you set more "learner-centric" goals in line with the learner expectations and actual needs.
Applicability: Another important factor that promotes active learning is the training practicality. Incorporate real-world examples, case studies and relevant content into the training curriculum to bring it "closer" to the learner and ultimately increase the personal connection of the learner to the training program. A self-guided online training course, personalized learning paths and online training activities that tie into real world examples are best suited for an active learning online training course.
Contextual: Every element of the online training program should be tied to a real-life situations and experiences that the learner relates to on a regular basis. In addition, the level of personalization and customization will increase the quality and effectiveness of your training program.
Engagement: If you follow the other 5 principles of active learning, "engagement" will be ultimately achieved. However, there are many tactics and tools that the digital technology offers to boost learner engagement throughout the training course. Many surveys among the training industry and corporate organizations highlighted the "engagement" aspect as the biggest challenge is successful online training courses.
Applying Bloom Taxonomy's Framework in Online learning:
There are many ways to make online learning an engaging and motivating experience using the principles of active learning and Bloom's Taxonomy Cognitive framework. It serves as a mind map for curriculum designers and online content developers to create truly engaging and effective training programs. Each level of the Bloom's Taxonomy framework can be supported with specific tools and techniques as illustrated in the below diagram: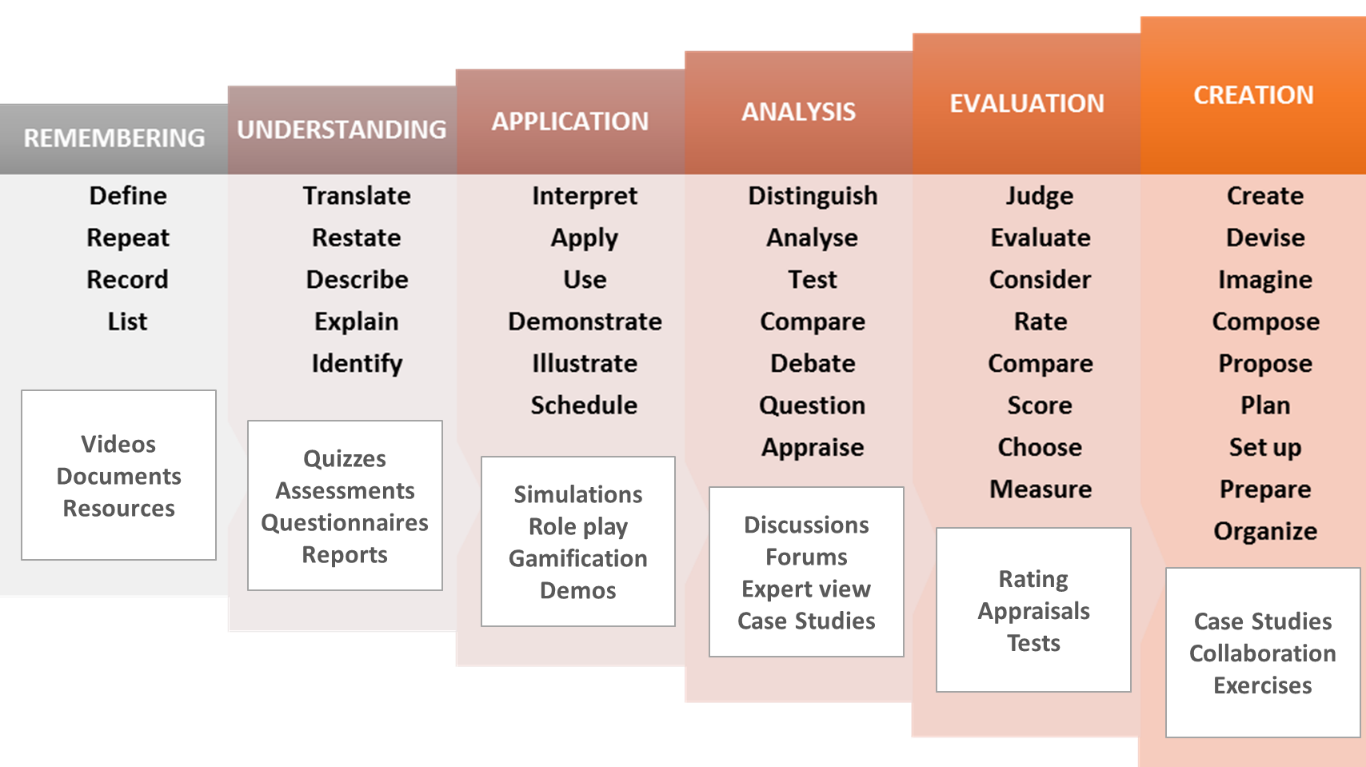 Remember to use a mix of tools and activities to achieve better, deeper, and faster e-learning.
For example, in each module you should have a combination of:
Learning materials in a form of videos, case studies, presentations to read and listen to that will help you remember the new information
Interactive elements like simulations, games, quizzes, demos – demonstrate your understanding and application of the acquired knowledge
Discussion forums, social media groups where you can discuss key topics, ask questions, and exchange views – to validate what you have learned and analyze its importance
Ratings, appraisals – in a form of points, badges, rewards to measure and evaluate the success
Virtual assignments and collaborative group activities on key topics to boost creativity, foster engagement, and deeper learning
Below are some of the most common strategies to spark engagement in a learner-centric online training course following the principles of active learning and Bloom Taxonomy model:
Introduce collaborative group activities such as:
Facilitate online discussions and conversational topics: this way learners will have the opportunity to share views, have peer-to-peer discussions and exchange feedback. Online discussions and debates reinforce learner ability to express opinion, build credibility, adapt to opposing views, empathic listening skills.
Introduce brainstorming activities on subject matters to enhance creative and problem-solving skills around subject matters
Encourage participation in specialized social media groups
To ensure focused discussions and strong outcomes it is important to assign a moderator to guide the online discussions in the right direction. Furthermore, this approach will ensure balanced participation and contribution from everyone
Online tools to support virtual collaborative activities: You can use web conferencing tools to enable interaction with teams and individuals from different locations. Other digital tools to foster group collaboration and discussion are forums, blogs, and social media groups, mail groups, other special software for team collaboration i.e. Microsoft teams etc.
Team projects / Virtual assignments:
Encourage team collaboration and peer-to-peer learning through assigning team projects. This approach fosters autonomous learning skills, stimulates learners to collaborate, improve communication, and develop problem-solving skills. Important element of the success of such activity is the proper briefing and guidelines.
Gamification is an important pillar of active e-learning as it boosts engagement and improves learner motivation. To be effective however, it should be treated as a tool that enhances the learning experience alongside with the quality course content and professional training delivery. Gamification should not be used to compensate for a poor course content.
Gamification usually incorporates the following elements: badges, points, levels, and leaderboards.
NIT – New Internet Technologies specializes in interactive and creative e-learning courses based on the principles of active learning.
If you want to know more about how you can turn your training content into exciting learning experience, please check our website and YOUTUBE channel for more tips and tools.